Attention Parents/Guardians, Tonight for Meet the Teacher at the Middle School, you must sign in tonight and fill out and return all forms in the student folders by Sept 16th in order to be eligible to have your name in for the drawing of a i-Pad.

Good afternoon, Reminder Meet the Teacher night is tonight August 16th from 5:30 - 8:00pm at the Middle School!!! We are excited about seeing everyone!!!


Eufaula Public Schools breakfast/lunch program will no longer be free for all students. Every household will need to fill out one application to apply for free and reduced meals. Applications are available online this year through the parent/student enrollment portal. or paper applications may be picked up at any site and may be returned to any site. Please make sure to fill out an application, as this will determine your child/children's lunch status (Free, Reduced or Full pay). Also, something new and exciting we are offering this year is the ability to pay your student's lunch bill through our student/parent portal. There will be a convenience fee of 3.25% added to your payment for each online transaction. If you have more than one student, you can do one transaction for all. This option should be ready by the end of August when the first bills are sent out. If you have any questions, you may contact me @ 918-689-2682,
llcharles@eufala.k12.ok.us
Thank you, Laura Charles, Child Nutrition Director

Parents/Guardians of 7th grade students, a reminder all 7th graders need to have their Tdap vaccine done before school starts on 8/18/2022.

Parents/Guardians, of returning students if you have completed or in process of completing the enrollment forms on wengage please make sure you submit to site when you finish. If you have any questions please call the Middle School office at 918-689-2711

Important Dates for EMS * Parents of returning students: Please make sure you have logged into your Parent Portal on wengage @ eufaula.k12.ok.us and filling out all enrollment forms and when you are done please select the submit button. * New Student Enrollment* Students new to the district should email Deana Paden @
drpaden@eufaula.k12.ok.us
or Kristi Colbert @
kcolbert@eufaula.k12.ok.us
to begin the enrollment process or you may go Thursday August 11th & August 12th 9:00 to 11:00 and 1:00 to 3:00 at the High School *Meet the Teacher Night will be August 16th from 5:30 to 8:00 Students whos parents have done the online enrollment process may pick up their schedule on meet the teacher night. * Students who are wanting to do virtual learning need to email Ms. Smith @
jennifersmith@eufaula.k12.ok.us
by Friday August 5th *First day of school is August 18th * Middle School bell schedule has changed first bell will ring @ 8:05 tardy bell will ring @ 8:10 and the dismal bell will ring at 3:10. * Athletic students need to have their physical done if all possible by August 18th. Forms need to be give to Mrs. Kiker in the MS office. Parents also need to go on to RankOne, login as a guest and fill out all the medical forms. If you have any questions please call the Middle School office 918-689-2711

Parents/Guardians: If your needing a enrollment verification for clothing or supplies the Middle School office will be open from 9am- 2pm Monday thru Thursday starting 8/1/22. We are 17 days away from school starting!! Looking forward to seeing everyone!!

Physicals 9-12th athletes and HS band members physical at MS 6pm Aug.2nd.

Hope everyone is having a great summer!!! We are a month away from from starting the 2022-2023 School Year! Here is the Middle School supplies list.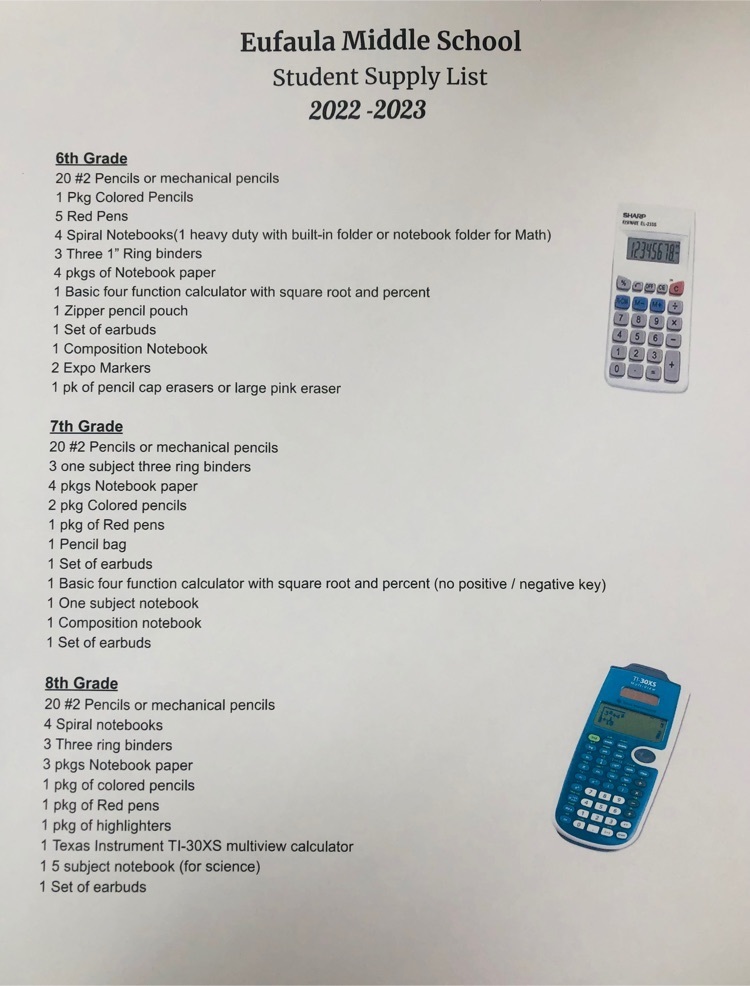 JH Softball tryouts will be Tuesday June 14th @ 10:30am at the HS Softball field. Incoming 6th,7th, & 8th graders that would like to play next fall MUST attend. Students should come with softball attire and equipment. If for some reason, a student is out of town on the 14th, you must contact Coach Green about a possible alternate date of June 21st. Via Remind, Facebook or email (
rgreen@eufaula.k12.ok.us
) I would like to get everything done and finalized on the 14th so everyone will have the plan for the season. If I do not hear from anyone about any conflicting dates, June 14th will be the only tryout date.

Due to the increasing chance of inclement weather this evening, the high school graduation will be moved to the middle school gym. Each senior will be given 10 tickets at graduation practice this morning to give to whomever they choose. The middle school gym doors will open at 6:00 pm for ticket holders only. At 6:45 we will allow all others who want to attend to enter the gym until maximum capacity is reached. Graduation will begin at 7:00 pm.

Parents you will need to enter the Middle School gym thru the breeze way there are students there to greet you as you come in. You may not check your student out until assembly is over and you will need to come to the office to check them out. Thank you

Reminder EMS Parents, 6th and 7th grade awards assembly is today 5/18/22 at 1:30pm in the Middle School gym. 8th grade students will receive there awards at the 8th grade promotion. If you choose to check your student out today after the assembly you will need to come to the Middle School office to sign them out.

Eufaula High School Sports Banquet tonight at the Middle School Gym. Doors open at 5:00 pm and the Banquet begins at 5:30 pm.

8th grade Students will receive all of their awards at the Promotion on Thursday at 6:oo pm at the High School football field.

No Beacon this week, Summer Beacon will begin Tuesday 5/24/22 8:00am- 3:00pm.

The Middle awards assembly has been moved to 1:30pm Wednesday May 18th in the Middle School gym. 8th grade Promotion will be at the High School football field Thursday May 19th at 6:00pm.

EMS Beacon Parents if you plan to check your child out after 3:45 today 5/12/22, Please call the Elementary office. 918-689-2682 Thank you

EMS Yearbooks are here and in the office $35