Mrs. Graham and Mrs. Bacon will be meeting with all juniors next Thursday, October 13th during advisory in the auditorium. This is a mandatory meeting for all juniors on site as well as virtual. We will be completing a few ICAP requirements that are required for an Oklahoma high school diploma.

Tomorrow the EHS Fast Pitch Softball team will begin Regional play at 2:00 pm in Tishamingo. Tickets are $7.00 each (plus $1.35 convenience fee) for adults and for students for each session. Each day of a regional tournament will be a session. Tickets will be sold online only. The OSSAA playoff pass is the only pass that will admit the holder to a play-off event. At the top it reads: "OSSAA Pass". A driver's license must be shown with all passes. You can purchase your tickets here:
https://gofan.co/app/events/718166?schoolId=OSSAA

Purchase your tickets now for a Eufaula Ironhead t-shirt quilt. Details are listed on the attached flyer.

FAFSA can be completed starting October 1st. Seniors were provided a list of items needed for this process last week. We will have Mrs. Ruherford here next Wednesday, October 5th to help students complete their FAFSA. Please help your senior gather the documents needed in order to do this. Thank you!

Buses running north of Eufaula may be late this afternoon. There is currently an auto accident in the construction area. Crews are working on getting the wreck cleared and the highway back open.

High school students will follow the assembly bell schedule tomorrow, Sept. 16. The pep rally will be in the gym at 2:15 - immediately after 8th hour. The assembly bell schedule is posted in students' google classrooms.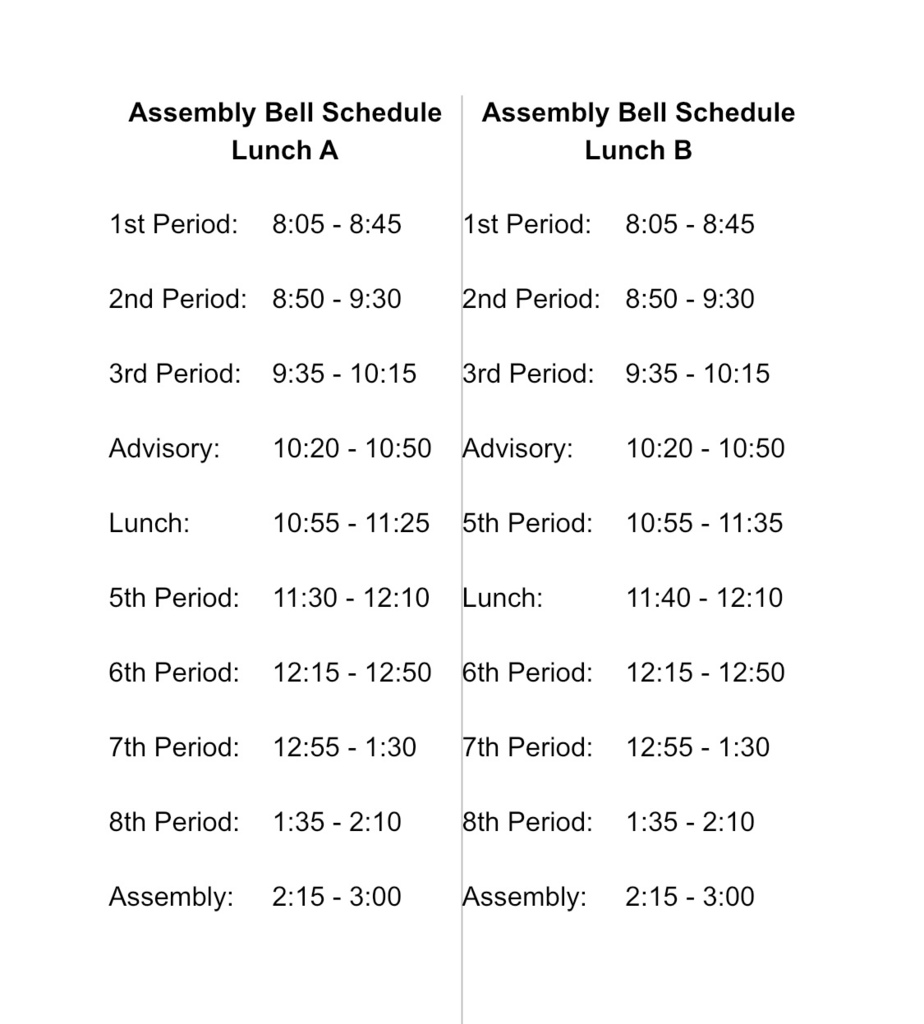 Homecoming is September 30! Here is the list of events for high school students for that week.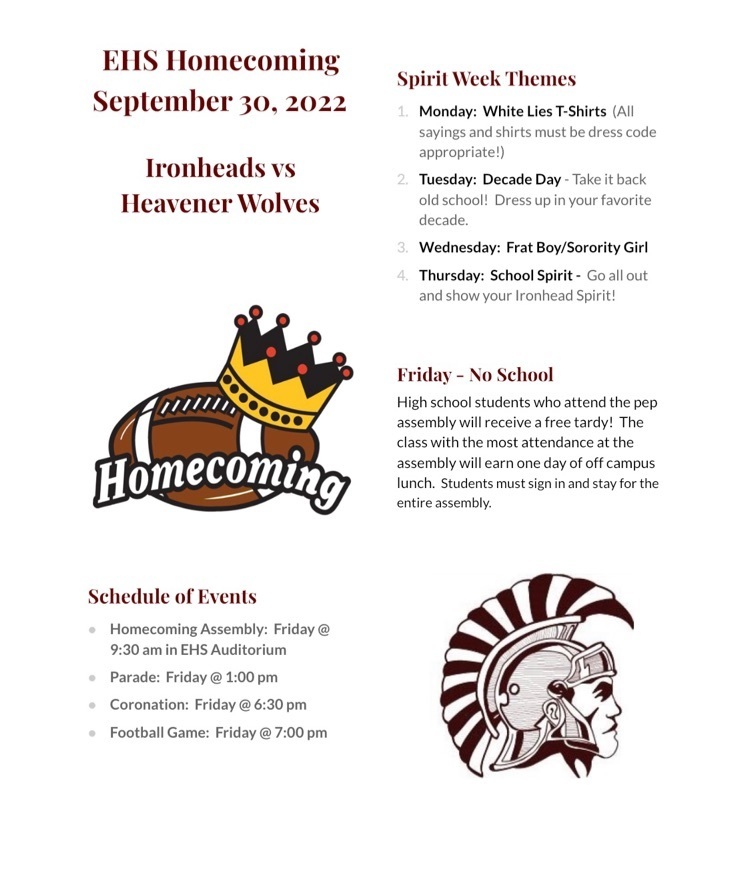 Dear parents and/or guardians: The Oklahoma State Department of Education (OSDE) has released preliminary state test results through a secure online portal and will release FINAL RESULTS on Tuesday, September 20, 2022. The Parent/Student Portal gives access to individual scores for the Oklahoma School Testing Program (OSTP) for students in grades 3-8 and the CCRA for students in grade 11 only. In order to access the portal, you will need your child's STN# and password for accounts previously established or STN# and DOB for new account registration. You may access your child's STN # by logging into their wengage account where you access their grades throughout the year. If you have issues logging into Wengage, you may contact Kristi Colbert (
kcolbert@eufaula.k12.ok.us
) or Deana Paden (
dpaden@eufaula.k12.ok.us
) at the high school, Jennifer Smith (
jennifersmith@eufaula.k12.ok.us
) at the middle school, and Michelle Crandall (
mlcrandall@eufaula.k12.ok.us
) at the elementary school for help. The high school phone number is: 918.689.2556. The middle school is: 918.689.2711. And, the elementary is: 918.689.2682. They will be able to assist you with any questions that you may have.

EHS Important Info for September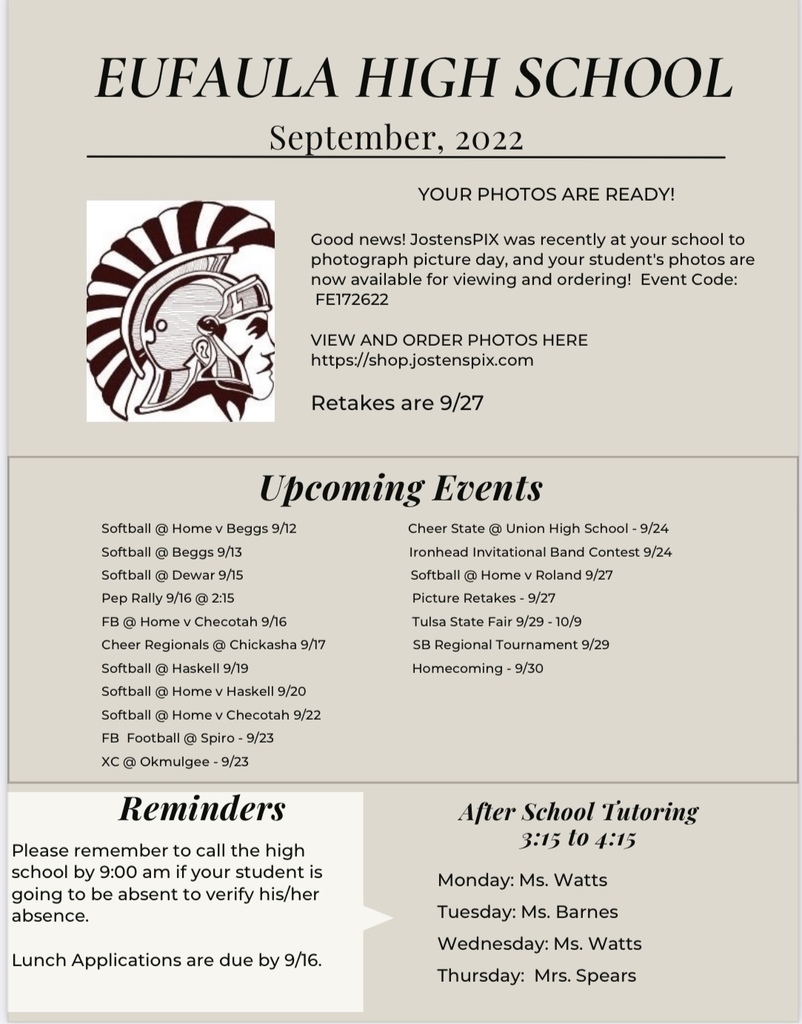 High school students' photos are now available for viewing and ordering at shop.jostenspix.com. The event code is FE172622.

Just a reminder for students and parents: Students should log on to Google Classroom today and complete the assignments posted for each class. We will take attendance based on completion of these assignments/questions.

Power lines are down on Texanna Road near Car Creek Road. If your student rides Bus 1 or Bus 18, they may be a little late getting home this afternoon.


The phones at the school are not working properly at this time. We are working to correct the problem at this time. Please email the school secretaries or principals if you need to get in touch with the school.

Picture Day for high school students is this Thursday, Sept. 1. All students must take a picture whether or not you plan on purchasing photos.
https://tinyurl.com/2ryjqc8h

Exciting news at Eufaula High School! This year high school seniors were given the opportunity to participate in a career internship for high school credit. Ten students have been learning about skills needed to be successful in the work place before beginning their internship experience. This is a huge opportunity for our students to explore interests and gain valuable experience in future possible careers. EHS Counselors Amber Graham and Krystal Cole-Bacon have worked tirelessly to make this program happen for our students. Also, we want to thank Audra Deckard for spending time with our students and teaching them about skills needed to be successful before sending them to their internship locations. Thank you to participating community members for investing in our students and allowing them into your businesses! We can't wait to see this program grow!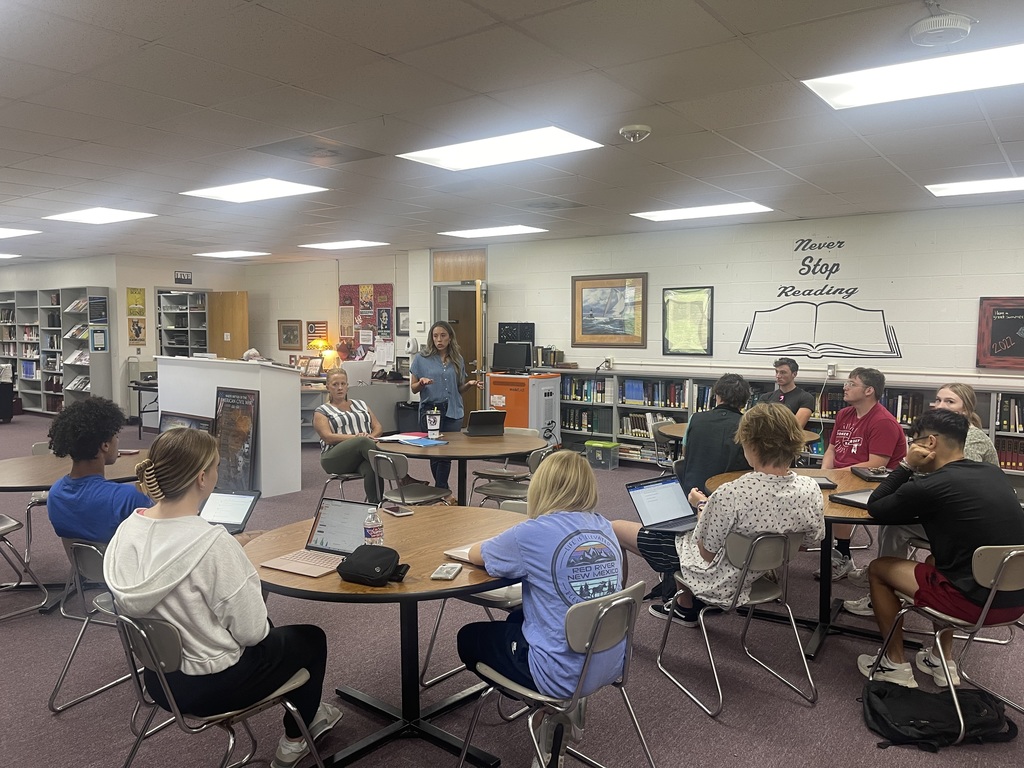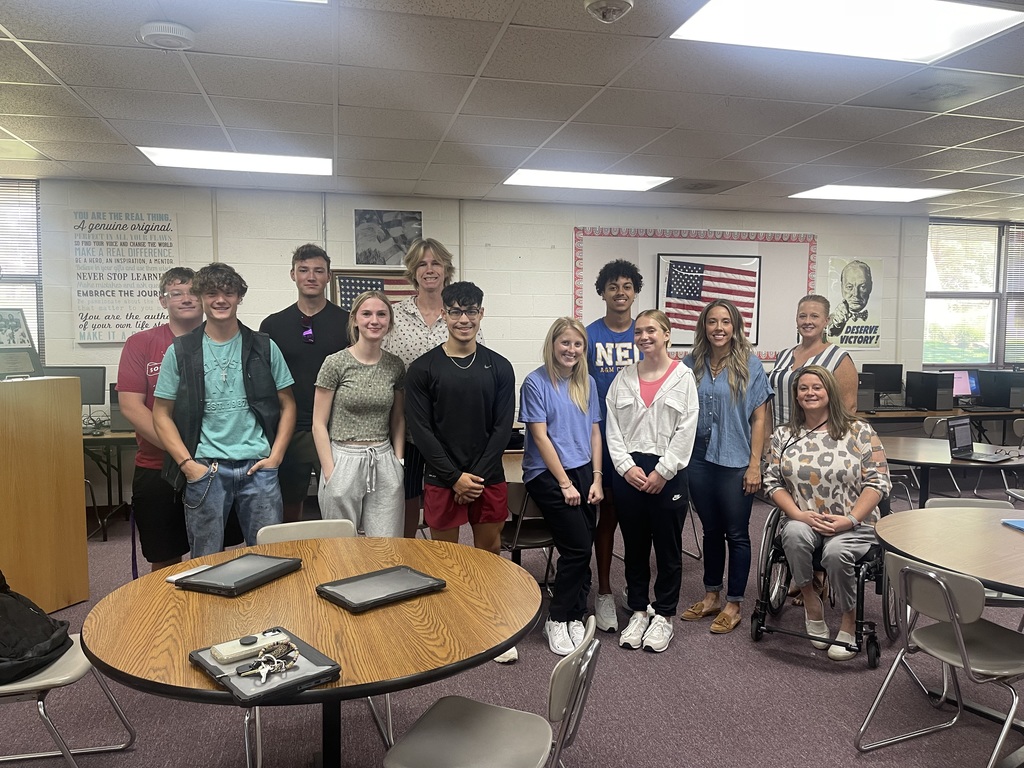 Meet the Ironheads - Sept 1 at 7:00 pm!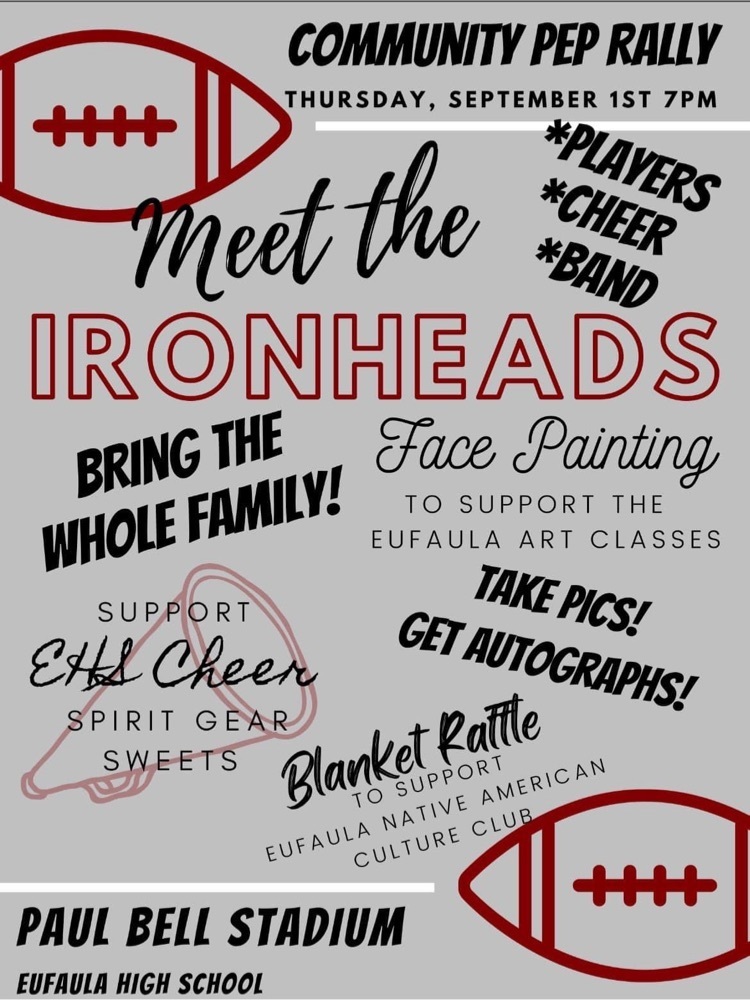 Picture day for high school students is September 1. Please disregard the message sent earlier by Jostens. It is inaccurate.

Just a reminder that all students participating in Extra-Curricular activities need to complete all participation forms on RankOne.
https://eufaulapublic.rankone.com/New/NewInstructionsPage.aspx
Anyone who missed the initial drug testing we had before school started will take that this Friday. You will need to complete the online RankOne forms or the student and guardian will need to sign a paper form before the test.