READY…SET…GO TO SCHOOL! EES Drop-off Information: There are three drop-off locations for EES students. Elem. Gym: 1st/2nd grade students. Pre-K/KG wing: PK/KG students. Front entrance: 3rd-5th grade students. However, if you have multiple siblings attending EES and/or have any child(ren) who plan on eating breakfast at school, you may use the main front entrance as a combined drop-off location for all students. Likewise, if you have multiple siblings in grades PK-2nd who will NOT be eating breakfast, you may drop them off at either the gym or PK/KG location as a combined drop-off location. Mommy Line Info: PK and KG parents may park and walk their child(ren) to class Thursday and Friday of this week only. Next week, we will return to normal drop-off routine locations for all students.

Just a reminder that all assemblies will be in the gym this evening. You will need to entor those doors. Lunch applications are on a table outside the front office. Those who complete and turn in the application before September 16th will be entered into a drawing for a free IPad. You only need to complete one per family in the district.

If your child will be in kindergarten this year, he/she may be due immunizations. These were due at the age of four but not required until kindergarten. Your child may not have these immunizations in PK. These immunizations are required for entry into kindergarten. Please provide the correct documentation if our records are not up to date or seek immunizations.

Eufaula Public Schools breakfast/lunch program will no longer be free for all students. Every household will need to fill out one application to apply for free and reduced meals. Applications are available online this year through the parent/student enrollment portal. or paper applications may be picked up at any site and may be returned to any site. Please make sure to fill out an application, as this will determine your child/children's lunch status (Free, Reduced or Full pay). Also, something new and exciting we are offering this year is the ability to pay your student's lunch bill through our student/parent portal. There will be a convenience fee of 3.25% added to your payment for each online transaction. If you have more than one student, you can do one transaction for all. This option should be ready by the end of August when the first bills are sent out. If you have any questions, you may contact me @ 918-689-2682,
llcharles@eufala.k12.ok.us
Thank you, Laura Charles, Child Nutrition Director
It is back to school time!!!! We hope everyone had a great summer! Here are dates of upcoming events at EES: August 16-Meet the Teacher Night! All assemblies will be in the EES gym. Students with the last name starting with the letters: A-K will be at 5:30 L-Z will be at 6:45. Students may bring their school supplies at this time. Teachers will NOT be available until after the designated assembly times. If you have students with different last names, you may choose which assembly time works best for your family. August 18-First day of 2022-23 school year! Staff will start assisting students out of vehicles at 7:45 am. Please do NOT drop off your child. Breakfast begins at 7:45. First bell will be at 8:10. Tardy bell rings at 8:15. Pre K dismissal is at 3:00 Kg-5th grade dismissal is at 3:15. Every year traffic is congested in front of the schools, please be patient and considerate of other parents, staff, and EPD as we all work to move it as quickly as possible. August 18,19-Pre K and Kg parents may participate in the "Mommy Line". *Parents may escort their Kg or Pre K student to class. August 22-All students will go to their classes on their own. See you next week!!


New student enrollment packets can be picked up at the elementary office from 8am -1 pm on Monday's or Tuesday's. Returning students will need to complete the online forms (through wengage) to update student information. The school supply list is pictured here.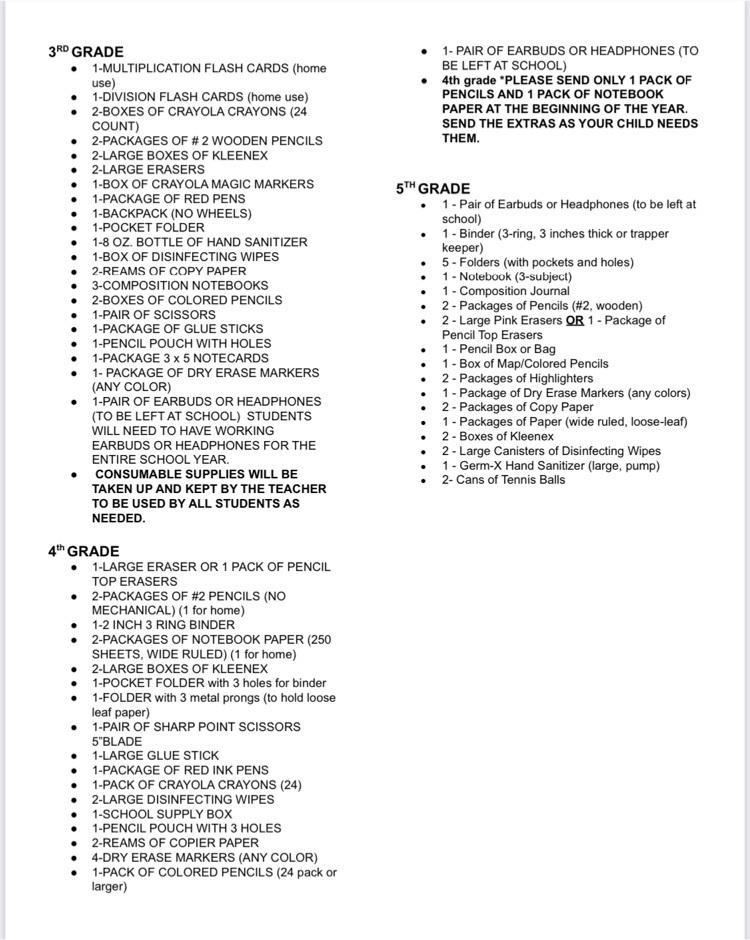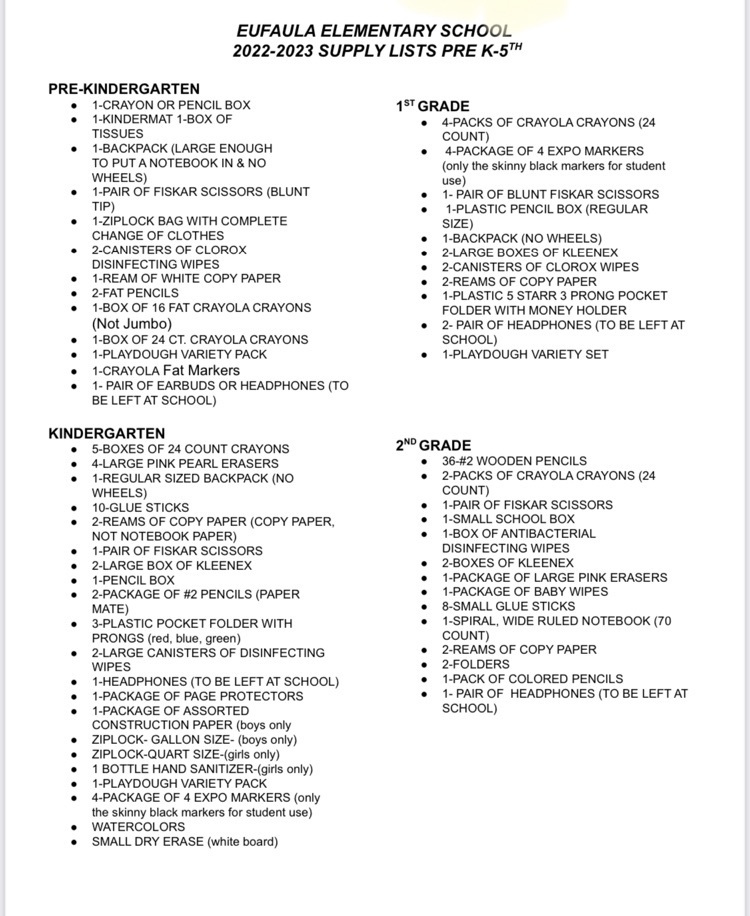 A star in our bright future! Although she's not new to us she is moving into our full-time Counselor's roll and we couldn't be more thrilled! Hi! My name is Michelle Crandall I was raised in Haskell where I graduated from High School in 2004. I furthered my education at Connors State College and earned an Associates Degree in 2006, then on to Northeastern State University for a Bachelor of Science in Education in 2008, and Master's Degree in school counseling from East Central University in 2021. I have taught special eduction at Eufaula Elementary School for 14 years. I am married to Jason and our nieces and nephew  keep us busy. I enjoy spending time with my family and friends, baking cookies and being outside. I look forward to helping students reach their full academic, social and emotional potential.

Eufaula Schools is now taking applications for an elementary school custodian position. For information, contact Kristel Hickman 918-689-2682 or by email at
kjhickman@eufaula.k12.ok.us
. Bus driving license is preferred. Applications can be retrieved at
www.eufaula.k12.ok.us
. Eufaula Public School is an Equal Opportunity Employer.

JH Softball tryouts will be Tuesday June 14th @ 10:30am at the HS Softball field. Incoming 6th,7th, & 8th graders that would like to play next fall MUST attend. Students should come with softball attire and equipment. If for some reason, a student is out of town on the 14th, you must contact Coach Green about a possible alternate date of June 21st. Via Remind, Facebook or email (
rgreen@eufaula.k12.ok.us
) I would like to get everything done and finalized on the 14th so everyone will have the plan for the season. If I do not hear from anyone about any conflicting dates, June 14th will be the only tryout date.


Due to the increasing chance of inclement weather this evening, the high school graduation will be moved to the middle school gym. Each senior will be given 10 tickets at graduation practice this morning to give to whomever they choose. The middle school gym doors will open at 6:00 pm for ticket holders only. At 6:45 we will allow all others who want to attend to enter the gym until maximum capacity is reached. Graduation will begin at 7:00 pm.
Happy Wednesday!! If your child has any medication in the nurse's office, you can pick it up Thursday (05-19-2022) or Friday (05-20-2022). Medications will NOT be sent home with the student. Any medications NOT picked up by Friday, 05-20-2022, by 11:30 will be destroyed.
Happy Monday! This is our final week of school! There will be no beacon this week. Summer BEACON begins 05-24-2022, 8:00 am-3:00 pm. 05-18-2022 5th Grade Field Trip 05-18-2022 3rd Grade Field Trip 05-19-2022 Pre K Promotion 9:30 MS Gym, parents, families, and community are invited! 05-17-2022 EES Spring Training Camp 05-18-2022 5th Grade Field Trip, 3rd Grade Field Trip 05-19-2022 Pre K Promotion will be at 9:30 at the MS gym 05-19-2022 4th Grade Kite Day 05-20-2022 EES Awards Assembly Times: 9:30- KG 10:00 -1st 10:30- 2nd 11:00 3rd 11:30 4th 12:00 5th Have a Great Week!
Happy Friday!! Reminder: 05-13-2022 1st Grade Field Trip 05-13-2022 Last Day of Beacon: Please call the office before 12:00 with end of day instructions 05-17-2022 EES Spring Training Camp 05-18-2022 5th Grade Field Trip, 3rd Grade Field Trip 05-19-2022 Pre K Promotion will be at 9:30 at the MS gym 05-19-2022 4th Grade Kite Day 05-20-2022 EES Awards Assemby Times: 9:30- KG 10:00 -1st 10:30- 2nd 11:00 3rd 11:30 4th 12:00 5th Have a Great Weekend!!!

More pics from today's EES GT Trip: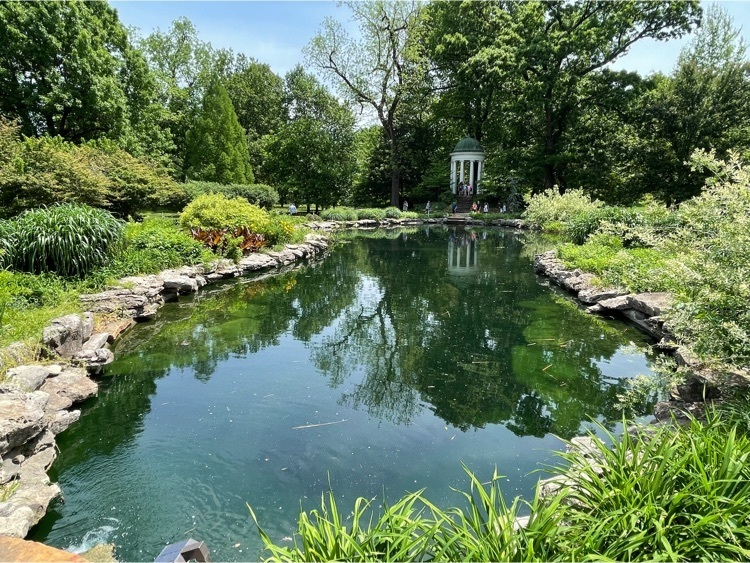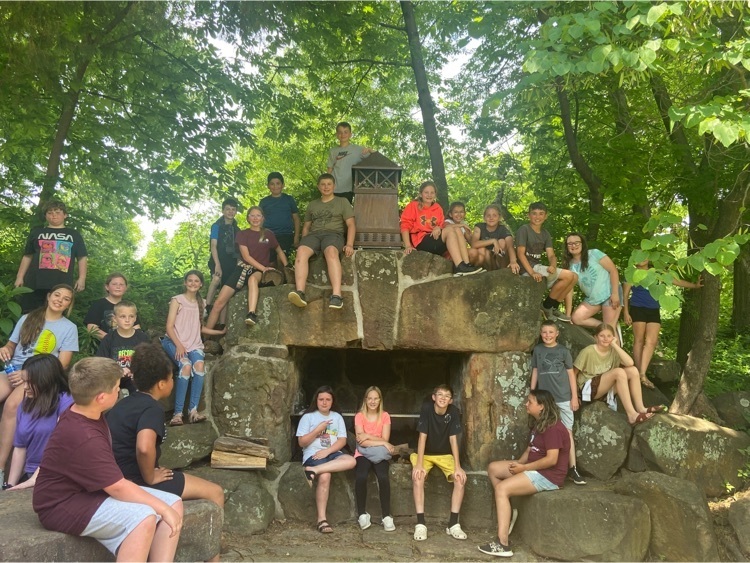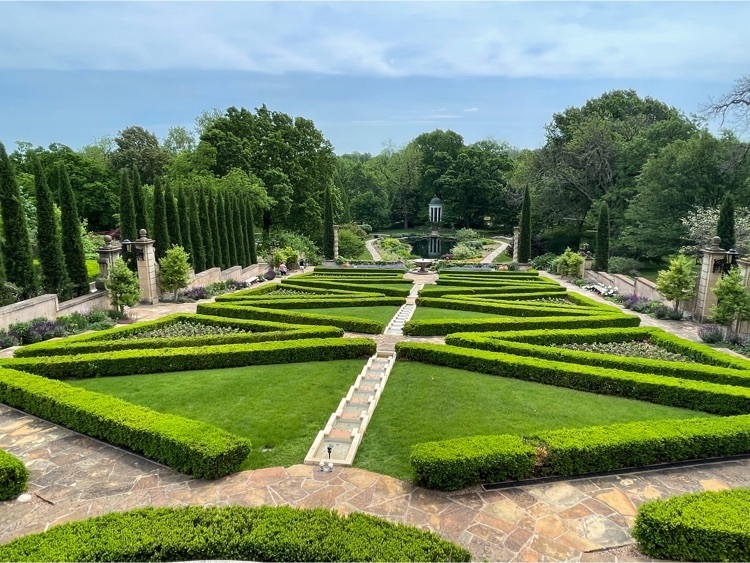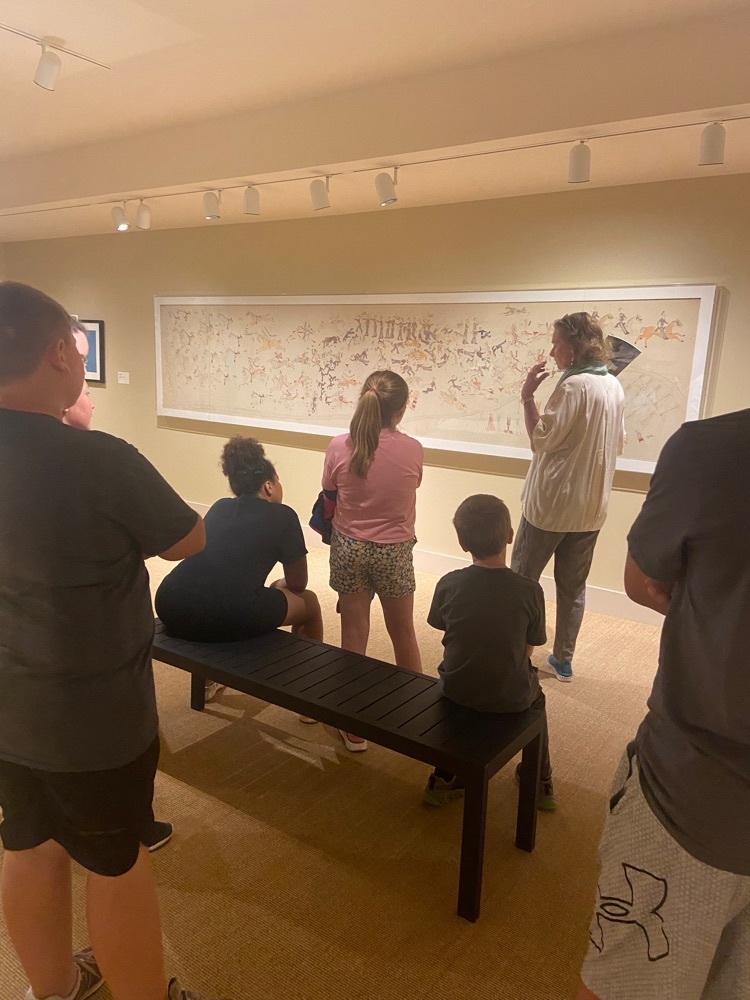 Our EES Gifted & Talented students spent the day exploring the amazing Philbrook Museum, and it certainly did not disappoint! What a beautiful place with so much history. The kids were engaged throughout the tour and enjoyed some down time eating lunch and playing on the lawn.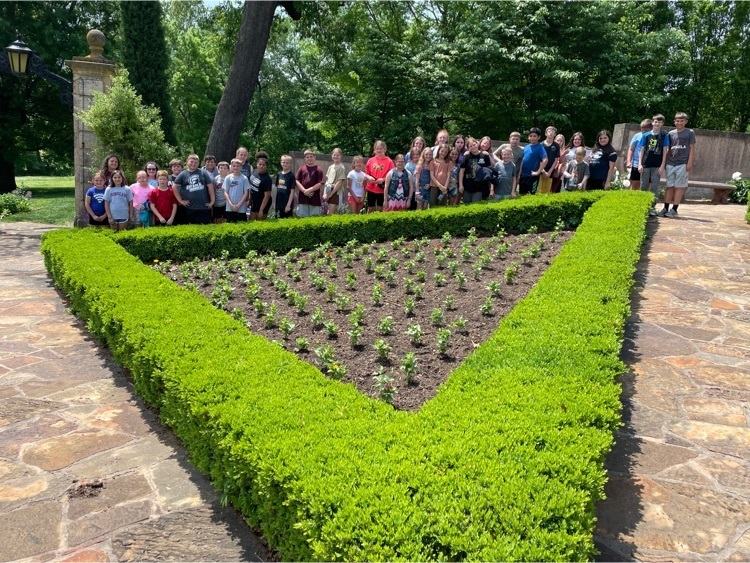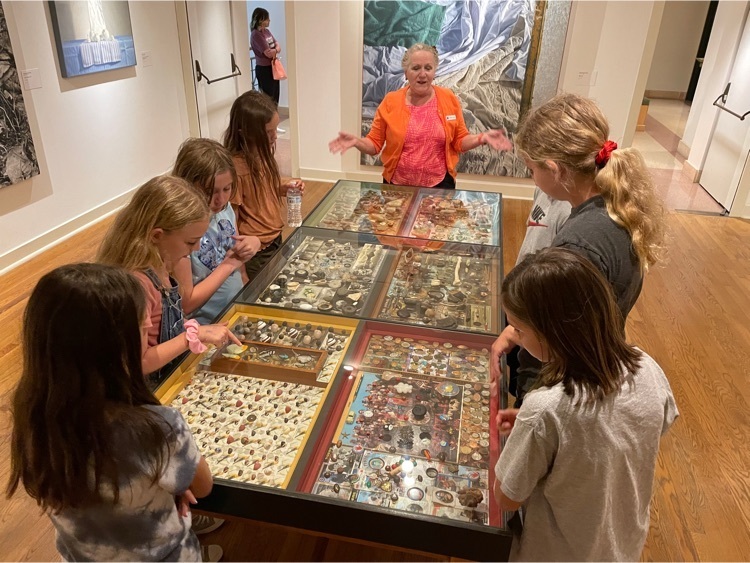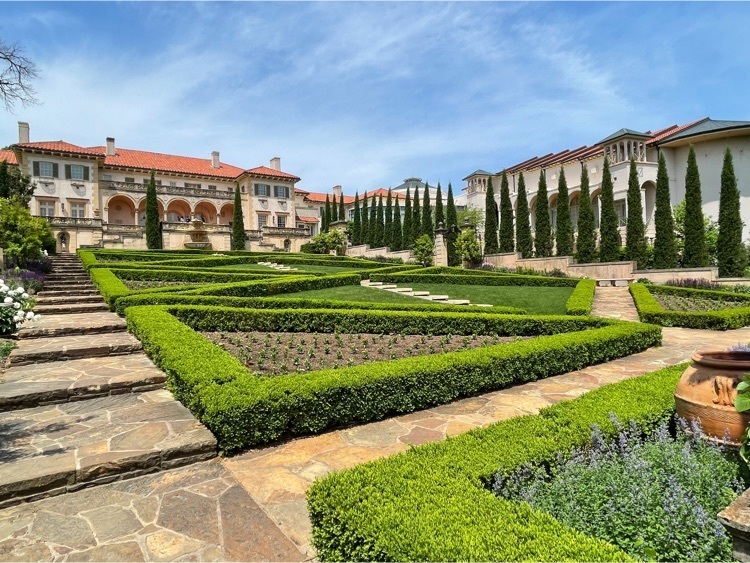 Dear Parents, We are so excited to continue great activities till the end of the year. 2021-2022 School Year has been a great school year. We wanted to let you know a little about a fun activity that we have coming up. We are having a Spring Training Camp on May 17th. This is an activity in which our campus practices what school will be like in August. It allows the students to practice routines and procedures and to meet the next grade level teachers. We wanted to inform you of this activity, as we are excited about this new practice. Students will also be receiving "Brown Bag Specials" for Summer Learning FUN! Please let us know if you have any questions. Thank you for your continued support of our amazing campus.
Congratulations to our top selling lil Ironheads!!! Left to Right: 1st place-Jayvin Laughlin, 4th place-Stryker Oldham, 2nd place-Trigger Laughlin, 3rd place-Gracie Rainwater(Not Pictured). Thank you all so much for supporting our fundraiser!!

Little Olympics today at the high school football field starting at 9. Parents/Guardians attending the Little Olympics, please park behind the football stadium. The front parking lot is for our high school students and staff only. If you are wanting to sign your child out after the Little Olympics, you will need to come to the elementary and sign them out there. There will be no sign out at the high school.